Moving Water Artistically
Are you looking for a wonderful way to add some visual interest to your property? Here at FWG Designs, LLC, we work with commercial clients to create a bit of paradise right on their properties with stunning and well-built water features.
Design
Whether its a water garden with goldfish, a traditional koi pond or custom fountain we approach each project with a fresh vision and infuse our passion into every project.
Construction
Attention to detail during the construction process to give you lasting water feature enjoyment.  We take creating the backyard paradise of your dreams seriously and will make sure we over-deliver 
Maintenance & Cleaning
We offer Maintenance Service Program Contracts with Monthly, Quarterly, Bi-Annual or Annual Service maintenance visits. We can also customize a pond maintenance program for your specific needs.
We specialize in
Commercial & Large Residential projects
Renovations – Construction – Clean up
Whether you are looking for ponds, waterfalls or something more dramatic, our team of experts is here to help you with custom water features regardless of what point you are at in your project.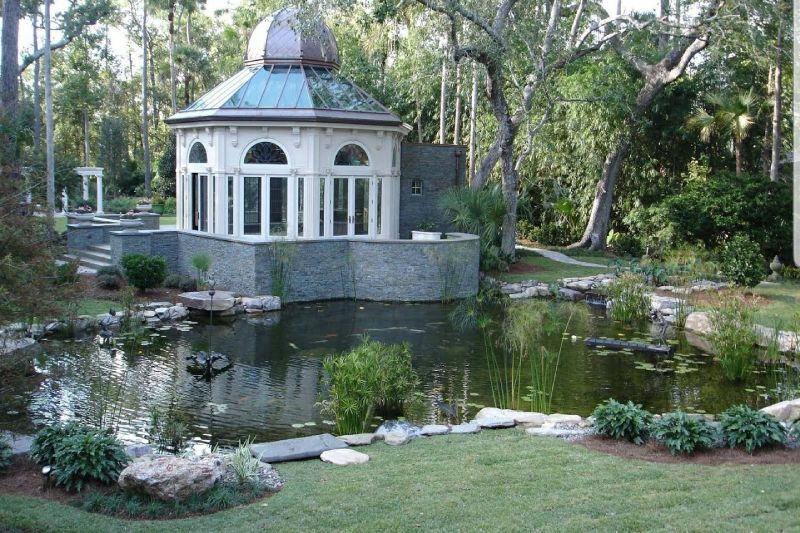 Our ponds are customized with optimal filtration for even the highest standards.  We use professional-grade materials on each and every project.
At FWG Designs, we can help you from the very beginning of the design process through the completion of your project. Because our team of experts has been designing and constructing all types of water features in many exotic locales for nearly 20 years now, you can count on our experience and keen design eye to give you the water features you have been looking for. We focus on the client and quality during every step of the process, ensuring that you will love the results.
Our team offers several different services to best serve you and your water features, including design, construction, maintenance and repairs. If you already have a water feature, we are happy to help you with repairs, maintenance and even retrofitting or remodeling your water feature to be something different. We can transform a pond into a koi pond and a lake into a fountain. As award-winning pond contractors, our expertise can be invaluable in many ways.
If you are looking for a pond contractor to create, maintain, restore or finish a water feature for you, look no further than FWG Designs. Contact us today to learn more!