We work hard to make the water features of your dreams become a reality!
FWG Designs, LLC has been designing and building commercial custom water features for nearly 20 years. We started as Florida Water Gardens in Central Florida before water features and koi ponds became so popular. We advanced in the industry, and some of our construction methodologies became the industry standard while our customized equipment was used as a steppingstone for current filtration equipment. We branched out to create FWG Designs, LLC in 2012 to offer our services on larger scale and commercial projects. Our family-owned business is always thankful to the customers who have trusted in us all these years, and we would love to tell you a little bit about our current business.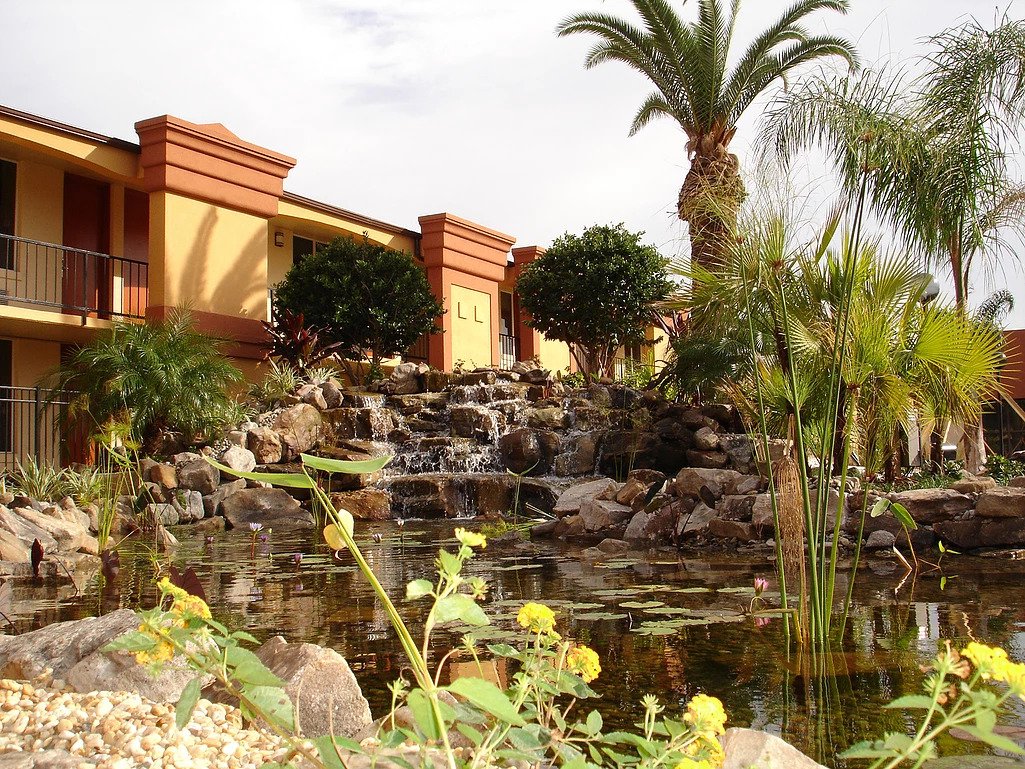 We build one project at a time approaching each as a unique water feature starting at the design process. We design a filtration system for the needs and requirements of your project to get the best, cleanest results for your water features. Our custom water feature projects include traditional koi ponds, custom fountains, pool waterfalls, water gardens, and pondless waterfalls. Our specialty is moving water in an artistic manner. We keep our prices fair by pricing your project based on its merits, needs and requirements that are custom to each project, regardless of your address.
Our projects are located in Orlando, Windermere, Lake Mary, Lake Nona, Miami, Ft Lauderdale, Central Florida, South Florida and throughout the state of Florida, the continental U.S., Bahamas, the Caribbean and as far away as Slovakia. Our projects include custom water features from
very small decorative residential projects to acre+ commercial-sized projects and theme park water features. Some of our clients include;
Disney World Orlando
Universal Studios Orlando (Wet-n-Wild project)
Government of Bahamas
Starwood V.O. (Sheraton Resorts)
Marriott World Center Orlando
Westin Resorts
Holiday Inn
City of Longwood
City of Casselberry
and many more….
Our owner, Freddie Combas, is known throughout the industry as The Pondman™. He is one of the founders of the I.P.P.C.A. (International Professional Pond Companies Association) and is one of a handful of contractors to be certified by Firestone Specialty Products to install PondGuard fish-safe pond liners. He was an original host of the longest-running radio show on WDBO, The Florida Homes & Gardens Show. Featured on HGTV and winners of many awards, our expert pond contractors are a lot of fun to work with!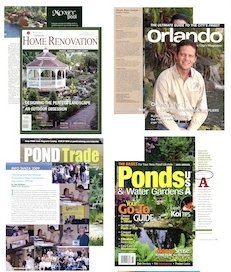 Our works and published articles have been featured in Florida Design Magazine, Home Renovation Magazine, PondsUSA Magazine, PondTrade Magazine, Water Garden News, Perspectives On Designs, Florida (national coffee table book sold at Barnes & Nobles, Borders, Books-A-Million, etc.), Orlando Magazine, Orlando Sentinel, and others.  Freddie Combas, the owner of Fwg Designs is one of the founders of the I.P.P.C.A. (International Professional Pond Companies Assoc.) and is currently 1 of only 60 contractors in the world certified by Firestone Specialty Products to seam liner (3 of those remaining 59 contractors work Fwg Designs, LLC).  Our employees have been part of our company for just over 13 years with one of them holding a degree in Environmental Technologies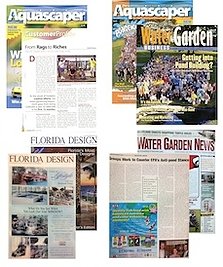 If you would like to learn more about our company or what we can create for you, please contact us today!